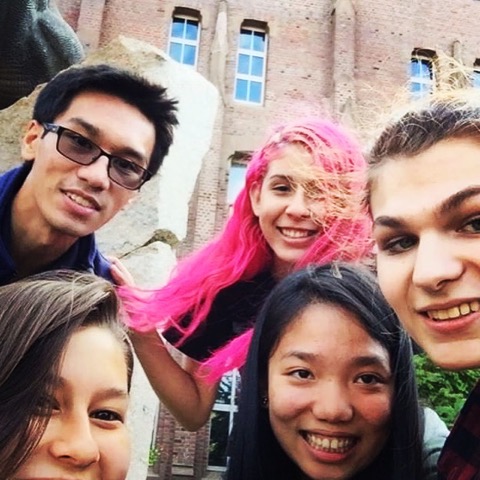 Happy New Year from the students and staff of the EVOLUTIONS program. We look forward for an exciting 2016. We are less than halfway through the EVOLUTIONS academic year, and are gearing up to build exhibits, take on internships, and go off to college. Here are some highlights of our year so far!
In August, The Environmental Leadership Fellows hosted a 3-day Environmental Conference for 50 high school students from along the East Coast. From ordering food, to leading workshops, to recruiting keynote speakers, these 6 students managed the entire conference planning process. 
In September, our class of 2016 seniors began the process of applying to college. 22 EVOLUTIONS seniors, who have been with us through all four years of college, worked on college applications scholarship essays and the selecting the schools that are the right match for their talents and interests. 
In October, we welcomed 46 new students to the EVOLUTIONS Program. These talented freshmen and sophomores come from Wilbur Cross, New Haven Academy, Hyde School of Health and Sports Medicine, Cooperative Arts and Humanities, Engineering Science & University Magnet School, Hill Regional career Academy, High School In the Community, Metropolitan Business Academy, Sound School, Common Ground, James Hillhouse High School, and West Haven High. 
In November, our EVOLUTIONS Lab Interns presented their research at the Peabody Museum. 15 students created research posters, which they presented to peers, family and mentors. A visitor to the event told us "I can't believe how brilliant you young people are. You truly are our future. I am optimistic about the future!" 
In December, EVO classes visited numerous collections departments to learn about the behind-the-scenes research of the Peabody Museum. We learned about anthropology, ornithology, herpetology, entomology, invertebrate zoology, invertebrate paleontology, meteorology and botany in a month of intensive tours with collections managers.