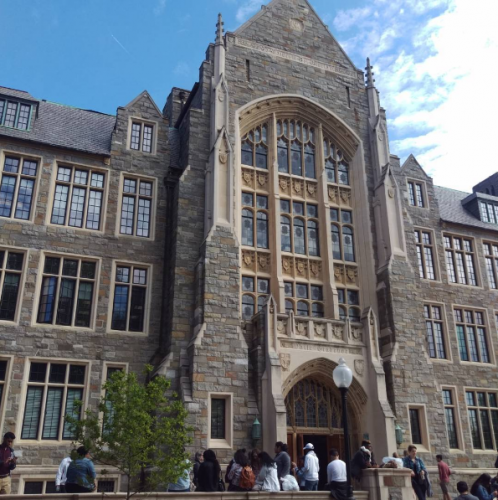 After DinoSnore, there's one event that all EVO students really look forward to: our annual college trip! In recent years, we've gone to Philadelphia and Boston; this year we traveled a bit further south to Maryland and Washington, DC. 
Our first stop was a small private school, Wesley, in Delaware; our second was a tiny, nontraditional school, St. John's College in Annapolis. Then, we collapsed into our beds at a hotel just outside of DC! The second day was Georgetown (pictured), which was a big hit with many students, and Bowie State, which many students agreed had the best food! That evening, we got to explore Baltimore before hitting the hay. On the third day (when we were on our way home), we saw Morgan State (which had amazing hands-on opportunities for students) and Towson University before heading back to New Haven. 
These schools vary widely in their tuition, admissions statistics, student life, architecture, dorm rooms, cafeteria, and overall "vibe"; a lot of students agreed that the trip was instrumental in showing them the variety of colleges that are out there and teaching them what they need to look out for when choosing where to apply. Our tour guides were all great and informative, and were pretty well-prepared for all the amazing questions our students threw their way.
Many thanks to the colleges for having us, the students for being so stellar, and the chaperones and staff for their help. We're already looking forward to next year!