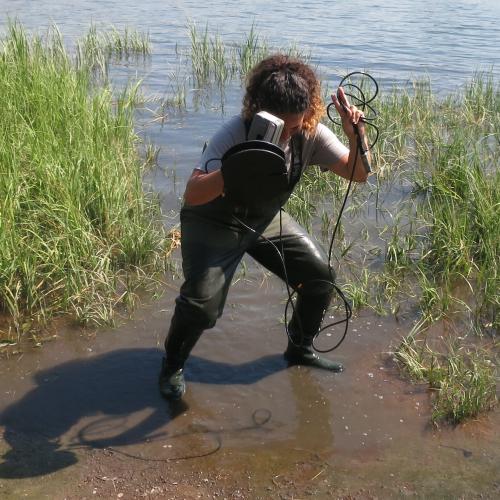 EVOLUTIONS Intern Symposium
Saturday November 12 from 2:00-5:00pm
Each year, EVOLUTIONS juniors and seniors are selected to participate in intensive summer internships with researchers and community organizations.These STEM focused projects range from environmental justice to chemical engineering, and provide EVO students with skills, knowledge and confidence to pursue opportunities in STEM beyond high school. 
Students are selected in early spring, from over 100 students in the EVOLUTIONS program. Spring training consists of lab safety training, science communication training, and content training to prepare students for work in labs. Pairs of students work with graduate and undergraduate mentors throughout the summer to learn fundamental scientific principles that are used in each setting and either conduct independent research projects, learn methods and techniques learned in the lab, or shadow experienced researchers. 
Each student produces a research poster in the Fall, and these posters will be presented at the symposium. 
Student presentations include:
Aisha Sharhan, Mercury Levels in Fish in the Quinnipiac River and Long Wharf (provisional title)
Alice Li, The Effect of Activated PKC-α on Twist1 and EMT in Ovarian Cancer Stem Cells
Ashley Ceravone, Environmental Leaders: Mercury Emissions
Dante Frazer, Mercury Accumulation in the New Haven Area
David Landolfi, Creating a Filter for Arsenic-Laced Water: Decorating TiO​2 Nanoparticles on Graphene Oxide
Gabriela Villaneuva & Aaliyah Shabazz, Foraminifera: Keys to the Secrets of the Ancient Oceans
Isaac Faustino, Assisting in the Digitization of the Peabody Museum Botany Collections
Mahdeen S. Khan, Stimulation of TNF Pathway in Jurkat Cells to Reverse HIV Latency 
Nicholas Michael Simons, Digitizing Plant Specimens at the Yale Environmental Center
Patricia Acorda, Optimization of Image Processing Using Image J For Transmission Electron Microscopy Images of Lanreotide Nanotubes
Agenda:
2:00-2:30- Introductions from Andrea & Alana
2:30-3:00- Keynote Presentation 
3:00-4:00- Presentation of Posters 
4:00-4:45- Food and Activities 
We hope to see you there!