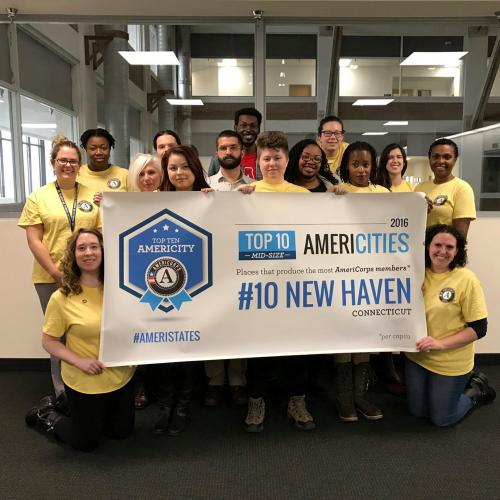 Today is Mayor's Day of Recognition for National Service, and so we'd like to take a moment to thank our own service member! 
Eileen Leary, an AmeriCorps VISTA member under PAVE New Haven, has been serving with us since September. They are one of EVO's very own curriculum developers, and spend their time making, tweaking, and trying out lesson plans. They love all their EVO students, and are extremely grateful for the opportunity to work at the Yale Peabody Museum of Natural History.
Eileen grew up in nearby Stratford and feels that museum outreach programs, like those at the Peabody and the Barnum Museum in Bridgeport, made a huge difference in their life growing up. Museum programs sparked a lifelong interest that led to them getting a MA in Archaeology from University College London and spending summer 2016 as an AmeriCorps member at the Lake Champlain Maritime Museum. Now that they are finally back in the New Haven area, they are excited to be able to give back to the community that gave them so much.
Many thanks to PAVE New Haven for partnering with us this year! This VISTA project has members at sites all throughout the city, and we are pleased to be one of them. We look forward to hearing stories from national service members at other PAVE sites - check out their Facebook page for more!